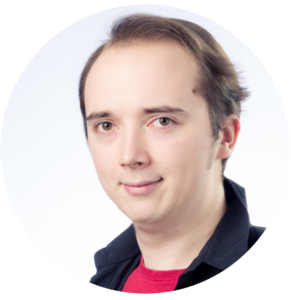 -> Zur deutschen Seite wechseln
Profile
Benjamin Arzt, MA
LinkedIn | vimeo
I am a CG-artist with a strong affinity for Animation and a solid background in rigging. I worked in Austria, Germany and London on Feature Productions with worldwide renowned companies like The Third Floor Inc and Scanline VFX. I graduated with a Master of Arts from the University of Applied Sciences Salzburg.
My aim is to bring characters to life and to grow as an artist. I'm passionate about everything animated and do my best to learn as much as I can about the medium.
Skills
Languages:
German (native) | English (fluent) | Japanese (basic)
Software:
3D: Autodesk Maya (Advanced), Mudbox, mentalRay, Vray
Film/Compositing: Adobe After Effects (Intermediate), Nuke, pfTrack (basic)
Other: Adobe Photoshop (Advanced), Adobe Illustrator, Adobe Indesign, MEL & Python (basic), HTML5, CSS3
Work Experience
02 | 2018 – 07 | 2018
Scanline VFX – Munich, Germany
Animation Artist (US-Feature Film)
Tasks: Character Animation, Vehicle Animation, Layout
08 | 2017 – 12 | 2017
The Third Floor Inc. – London, United Kingdom
Shot Creator/Postvis Artist (US-Feature Film)
Tasks: Postvis, Character Animation, Creature Animation, Matchmoving, Lighting, Compositing, Rotoscoping
10 | 2016 – 01 | 2018
Self-Employed – Klagenfurt, Austria
Freelance 3D Artist / CG-Generalist
Customers include: Giesswein Walkwaren AG, Digital Light Factory
08 | 2016 – 03 | 2017
Digital Light Factory – Salzburg, Austria
Freelance 3D Rigger
Tasks: Animation Tests, rigging and skinning for an animated feature film
08 | 2012 – 12 | 2012
FreshFX – Salzburg, Austria
Intern
Tasks: 2D Animation, 3D Animation, 3D Modeling, Rotoscoping, Set-Assistance, Advanced Compositing, Editing/Videobanner, Research, Picture Editing.
10 | 2009 – 06 | 2010
Catholic Youth Kärnten (Katholische Jugend Kärnten) – Klagenfurt, Austria
Compulsory Paid Community Service
Departments: "Katholische Jungschar", Child Pedagogy Center "Zentrum im Brennpunkt Erziehung" (ZBE)
Tasks: administrative work, organising events, preparation of workshops, child care and web content management ("ZBE"-website).
07 | 2008 – 08 | 2008
University of Klagenfurt – Klagenfurt, Austria
Intern
Tasks: scientific research, Image-based Geo-Tagging and PHP-scripting.
Education
10 | 2013 – 01 | 2016
Master of Arts in Arts & Design
Study Path: MultiMediaArt
Major: Computeranimation
University of Applied Sciences Salzburg – Puch Urstein, Austria
– Master-Thesis: "Actors with a pencil – The role of acting in animated movies"
– elective course: Japanese – 1 Semester
– FMX Recruiting Booth Support Stuttgart – 05 | 2015
09 | 2010 – 06 | 2013
Bachelor of Arts in Arts & Design
Study Path: MultiMediaArt
Major: Computer-Animation
University of Applied Sciences Salzburg – Puch Urstein, Austria
– Bachelor Thesis 1: "The hidden messiah in action-movies"
– Bachelor Thesis 2: "Really moving – Realism in Character Animation"
09 | 2001 – 06 | 2009
A-Level (Matura)
BRG Viktring – Klagenfurt Viktring, Austria – Secondary education school-type with an emphasis on fine arts (Major: art education)
– elective subjects: 2 years computer science, 1 year religious education