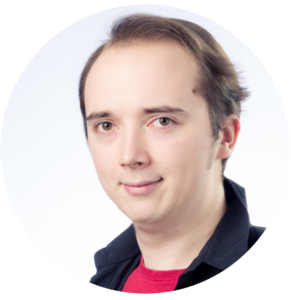 -> Zur deutschen Seite wechseln
Profile
Benjamin Arzt, MA
Birthdate: 24. 12. 1990
Location: Austria, Klagenfurt (willing to relocate)
Mail: contact[at]benjaminarzt.com
Tel. (Austria): 0043 (0) 677 | 611 874 77
LinkedIn | vimeo | IMDb
I am a CG-artist who prefers 3D-Animation and rigging.
My Goal: To access an animation position at an enthralling studio that will enable me to bring characters to life and to grow as an artist. I have a good eye for detail and research, I'm passionate about everything animated and I aim to learn as much as I can about the medium.
Skills
Languages:
German (native) | English (fluent) | Japanese (basic)
Software:
3D: Autodesk Maya (Advanced), Mudbox, mentalRay, Vray
Film/Compositing: Adobe After Effects (Intermediate), Nuke, pfTrack (basic)
Other: Adobe Photoshop (Advanced), Adobe Illustrator, Adobe Indesign, MEL & Python (basic), HTML5, CSS3
Art Skills:
storytelling, cinematography, character design, 3D modeling, rigging, 3D animation, advanced rendering, compositing,
advanced visual effects.
Secondary Skills:
print design, web design, typography, auditive design, cinematic tools and TV-design, pipeline production, media theories, art theory, culture theory, art-based research, intercultural communication and management.
Work Experience
08 | 2017 – 12 | 2017
The Third Floor Inc. – London, United Kingdom
Feature Film Shot Creator/Postvis Artist
Tasks: Postvis, Character Animation, Creature Animation, Matchmoving, Lighting, Compositing
10 | 2016 – today
Self-Employed – Klagenfurt, Austria
Freelance 3D Artist / CG-Generalist
Customers include: Giesswein Walkwaren AG, Digital Light Factory
08 | 2016 – 03 | 2017
Digital Light Factory – Salzburg, Austria
Freelance 3D Rigger
Tasks: Animation Tests, rigging and skinning for an animated feature film
08 | 2012 – 12 | 2012
FreshFX – Salzburg, Austria
Intern
Tasks: 2D Animation, 3D Animation, 3D Modeling, Rotoscoping, Set-Assistance, Advanced Compositing, Editing/Videobanner, Research, Picture Editing.
10 | 2009 – 06 | 2010
Catholic Youth Kärnten (Katholische Jugend Kärnten) – Klagenfurt, Austria
Compulsory Paid Community Service
Departments: "Katholische Jungschar", Child Pedagogy Center "Zentrum im Brennpunkt Erziehung" (ZBE)
Tasks: administrative work, organising events, preparation of workshops, child care and web content management ("ZBE"-website).
07 | 2008 – 07 | 2008
University of Klagenfurt – Klagenfurt, Austria
Intern
Tasks: scientific research, Image-based Geo-Tagging and PHP-scripting.
Education
10 | 2013 – 01 | 2016
Master of Arts in Arts & Design
Study Path: MultiMediaArt
Major: Computeranimation
University of Applied Sciences Salzburg – Puch Urstein, Austria
– Master-Thesis: "Actors with a pencil – The role of acting in animated movies"
– elective course: Japanese – 1 Semester
– FMX Recruiting Booth Support Stuttgart – 05 | 2015
09 | 2010 – 06 | 2013
Bachelor of Arts in Arts & Design
Study Path: MultiMediaArt
Major: Computer-Animation
University of Applied Sciences Salzburg – Puch Urstein, Austria
– Bachelor Thesis 1: "The hidden messiah in action-movies"
– Bachelor Thesis 2: "Really moving – Realism in Character Animation"
09 | 2001 – 06 | 2009
A-Level (Matura)
BRG Viktring – Klagenfurt Viktring, Austria – Secondary education school-type with an emphasis on fine arts (Major: art education)
– elective subjects: 2 years computer science, 1 year religious education